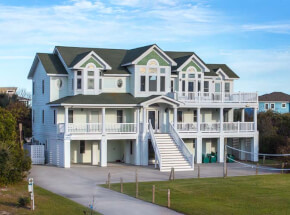 Last week, we went on our annual week-long vacation to the Outer Banks in North Carolina. Each year, we join nearly twenty of our friends to rent a large vacation home in the Outer Banks on their shoulder season and this year was on different. We were able to rent this massive home for less than three thousand dollars. It has 9 bedrooms (2 king, 6 queen, four bunk sets) and is enormous, with free wireless access, a hot tub, elevator, a game room, pool, a kitchen capable of handling twenty people living there, as well as easy access to the beach. The only downside is that that it takes forty five minutes to get off the peninsula, which added time to the commute and to when we played golf. 🙂

Besides having a week off and enjoying the weather (which was fantastic, it only rained on the day we left) was the three rounds of golf we were able to play at some of the nicest courses I've ever played at. We played Monday (regular) and Tuesday (scramble format) at Kilmarlic, easily one of the nicest public courses I've ever been to. On Monday I shot my low round of the year, a 93 (it's my first year, I was pretty excited), and it cost only $45 because they had aerated the greens. Compared to any of the courses I've played at in and around Baltimore, it was a steal. On Friday, we also played at The Pointe, which was again a very nice course but not nearly as nice as Kilmarlic. I was able to extend my sub-100 streak to 3 with a 99 here, despite really falling apart in the back nine.
For the rest of the week, we usually split our time playing board games, sitting in the pool or hot tub, and hanging out at the beach. I'm not a big beach person so my time was spent mostly playing games or lounging in the hot tub, but I did spend a day there it was great. At low tide there is plenty of room on the beach to pretty much do whatever you want.
The one risk of going to the area this late in the season are the hurricanes. We lucked out in that Hurricane Earl had just passed, barely touching our area, and we moved in a few days later. The weather was gorgeous, the water was a little cold, but all in all we had a fantastic time.