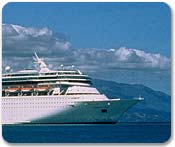 I like cruises because they're simple (it's like cheating!). They're really like the equivalent of fast food. It's prepackaged, fairly priced for what you get, and easy. After our month-long trip to Europe, I think we're in the mood for a quick little getaway that satisfies our desire to travel without really satisfying our desire to travel. So… it's really like Chinese fast food.
We're looking at a three-day cruise out of Miami on the Majesty of the Seas going to the Bahamas. It's a fairly priced cruise at $328 interior cabin and $329 for an oceanview (even more for a suite). After $48.92 in taxes, it's a so-so price per day at $122.64. My sweet spot is usually around $100 a day but the last cruise was several years ago so you figure inflation has to have kicked that bar up a notch or two (though I though travel was down because of the recession?).
The itinerary has us start in Miami, pop on over to CocoCay, Bahamas and then Nassau, Bahamas, and then back to Miami. Short and sweet!
Travelocity always offers all sorts of bonuses and credits if you buy it through them and the only one we'd qualify for is a $25 on-board credit per statement. It's not really that great but it's certainly better than getting nothing! (that would bring our total cost down to $710.84, as we found a $319pp oceanview stateroom, or $118.47 per day per person)